Turtle Fountains
A TENNESSEE LLC.
In 1991 our group of engineers started to develop a custom series of fountain pumps. We wanted these pumps to produce the highest pressure and the largest volume of water per horsepower than any other pump on the market. Two years later the Turtle Fountain turbo pump was born.
We began manufacturing our fountain equipment in 1994 in the Bartlett Industrial Park in Bartlett, TN. We have continued over the years to make improvements and add new products to the line. In 1998 we designed our unique simulated rock flotation and began offering it as a standard with all of our fountains.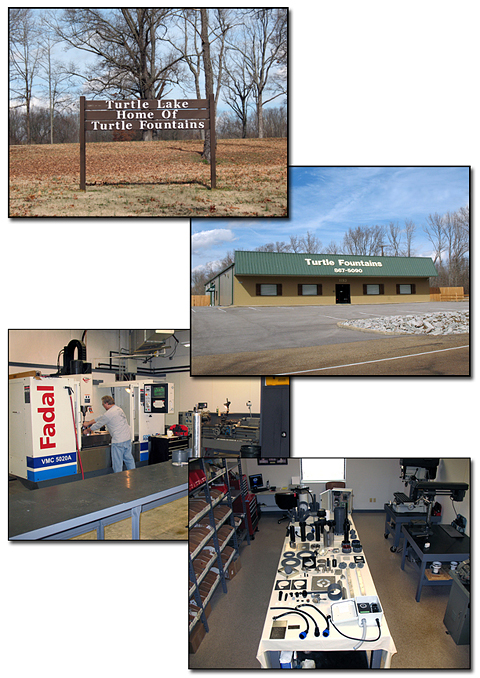 The Liberator high-aeration fountain series was developed in 2000. We make it in seven different sizes and it consistently continues to be one of our very popular products.
We added the amazing Mega-Series fountains to our family of fountains in 2003. These are our largest fountains and we consider these our greatest accomplishment. We are adding new head designs to the Mega-Series each year.
In 2005 we purchased 17 acres in Gallaway, TN (12 miles from Memphis) and built our new factory. We now have plenty of room for growth, a state-of-the-art test facility, and a 3 acre lake where we display our fountains.
We will constantly strive to manufacture the best fountains (all made in America) by people that care about quality at an affordable price.